Which Immunizations Do I Need?
The specific immunizations you and your family need are determined by factors such as your age, lifestyle, high-risk conditions, type and locations of travel, and previous immunizations. Throughout your life, you and your family need immunizations to get and maintain protection against certain illnesses or disease.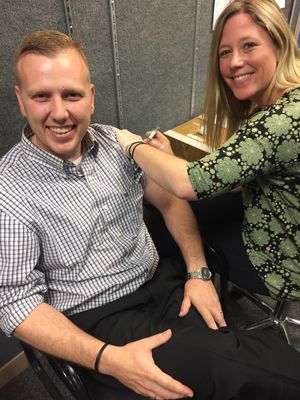 Vaccinations Available at Nord's Pharmacy:
Walk-Ins welcome
Pneumococcal disease (Pneumonia)
Pneumococcal disease is an infection caused by a type of bacteria called Streptococcus pneumonia (pneumococcus). The symptoms include fever, cough, shortness of breath, and chest pain. Pneumococcal disease can be fatal. In some cases, it can result in long-term problems, like brain damage, hearing loss, and limb loss. All adults 65 years of age and older should receive the PPSV vaccine. Anyone 2 through 64 years of age who has certain long term health problems or disease may also need the vaccine.
Shingles
Shingles is a painful localized skin rash often with blisters that is caused by the same virus that causes chickenpox. Anyone who has had chickenpox can develop shingles. Shingles vaccine is recommended to reduce the risk of shingles and its associated pain in people 60 years old or older.
Seasonal Influenza (Flu)
All persons aged 6 months and older should be vaccinated annually. Certain people are at greater risk for serious complications if they get the flu. This includes older people, young children, pregnant women and people with certain health conditions (such as asthma, diabetes, or heart disease), and persons who live in facilities like nursing homes.
Tetanus, diphtheria and pertussis (Whooping Cough)
Adolescents 11-18 years of age (preferably at age 11-12 years) and adults 19 through 64 years of age should receive a single dose of Tdap. For adults 65 and older who have close contact with an infant and have not previously received Tdap, one dose should be received. Tdap should also be given to 7-10 year olds who are not fully immunized against pertussis.
Also Available:
Hepatitis A and B
HPV (Human Papillomavirus)
Meningococcal (Meningitis)
MMR (Measles, Mumps, Rubella)
Varicella (Chickenpox)
Travel vaccines (in select locations)