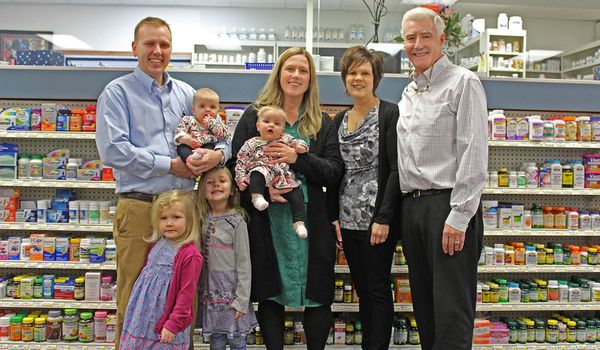 Evan, Ruth and their 4 daughters along with former owners John & Julie Nord
Founded in 1892 by P.M. Mark, our pharmacy has been serving the area for 125 years. Our mission has been to care for our hometown communities throughout the area here in NW Minnesota.
The most recent chapter began on January 18th, 2017 when Ruth & Evan Fonder, along with their 4 daughters purchased Nord's Pharmacy & Gifts from John & Julie Nord.
Our goal is to continue to build on the culture that John & Julie built over the past 30 years, after purchasing the pharmacy from his father, Elmer Nord.
A little bit about the owners: Evan & Ruth grew up in Fosston, MN where they both graduated from Fosston High School. They left the area to attend college. Evan graduated from Concordia College in Dec. of 2005, and Ruth earned her PharmD from NDSU's College of Pharmacy in 2008. After college, they made a home & many lifelong friends in Aberdeen, SD.
Evan & Ruth moved back to Fosston in 2015, with a desire to raise their growing family in their hometown. They have 4 daughters, Hannah (5), Elise (3), Hadley (10 mo), and Lorraine (10 mo).
They are excited to continue to learn, grow, and serve the area through Nord's Pharmacy & Gifts.